Solar System Special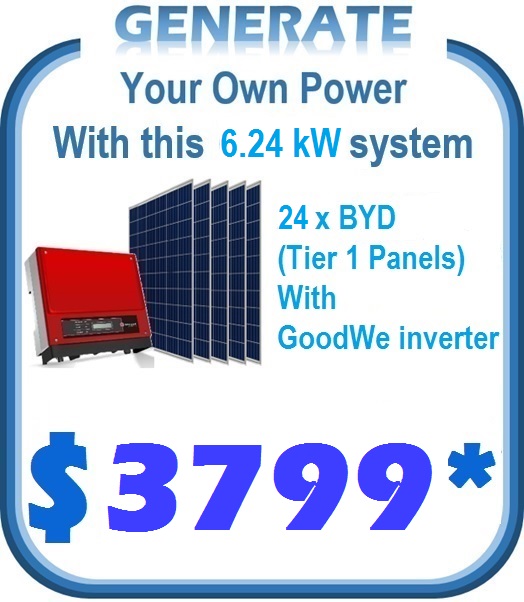 Details of System
BYD Solar, one of the world's top PV manufacturers, produces from wafer to module with automatic production line, committing to high quality sustainable products and continuous improvement. Its panels have the following features:
25 year linear power warranty and 10 year product warranty
Excellent low light performance on cloudy days, mornings and evenings
Positive tolerance 0~5W
Highly reliable due to stringent quality control – have passed EL inspection, over 30 in-house tests such as UV, TC, HF tests, PID resistant
Withstand challenging environmental conditions – 130km per hour wind load, 5400Pa snow load per module, 35 mm hail stones at a speed of 97km per hour
Goodwe was established in 2010 and have developed and produced nine series of solar products ranging from 1.0 to 75kW. It also won a number of awards throughout the course of its operations. It has the following features:
Goodwe has had an office in Melbourne and serves its customer with high standards
Fanless low-noise design
30 percent lighter in size and weight compared to similar products
WiFi built in function – multiple monitoring and communication
LCD display
Dust-proof and water-proof
Built-in anti-reverse function
20 percent volume optimization
5 year standard warranty – additional warranty also available
Would like to know more about this package?
Simply give us a call on 1300 405 600 or submit the form on the left and we will get back to you within 24 hours.
Our specialists are more happy to help you and our aim is to help you to own your solar system and generate your own power!
*The price is deducted after government rebate and based on a fully installed at standard site condition, excluding meter and meter changing. Standard site condition comprises: a single storey, single phase power, mildly pitched tin roof with no split on different directions. A small extra fee will be charged for double storey, steep or tile roof, tilt frames, etc. The price also for Brisbane metro area within 50km radius from CBD, travelling cost apply for further distance.